Providing a Benefit You Can't Ignore
We deliver a significant value proposition to our customers, including meaningful environmental benefits, efficiency gains, fast fueling, and lower operational costs.
Our vertically-integrated GenKey solution ties together all critical elements to power, fuel, and provide service to customers such as Amazon, BMW, The Southern Company, Carrefour, and WalMart.
We have leveraged our know-how, modular product architecture, and foundational customers to rapidly expand into other key markets, including zero-emission on-road vehicles, robotics, and data centers.
Produce & Liquefy Hydrogen
Plug, the leader in building an end-to-end green hydrogen ecosystem that addresses every step of operations, is proud to offer its customers cost-effective green hydrogen, which is quickly becoming the molecule of choice for customers both large and small.
Led by a team with nearly five decades of experience, Plug's PEM electrolyzer solutions produce carbon-free green hydrogen using renewable electricity and water. Plug offers electrolyzer solutions that cover a variety of applications from mobility to power to chemical industries.
As a cost-competitive form of energy, green hydrogen is the only form of hydrogen created using clean renewables.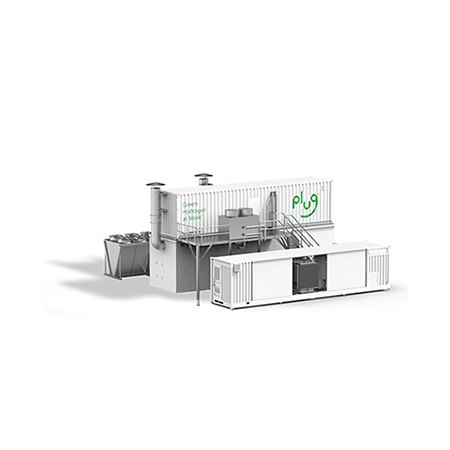 Transport Hydrogen
With our fleet of cryogenic trucks, Plug offers trailer solutions to transport green hydrogen from production plants to users around the world daily. Plug's innovative designs of cryogenic trailers and mobile storage equipment allow for a range of industrial, commercial, medical and chemical applications that use hydrogen. 
Plug liquifies hydrogen for transportation at atmospheric pressure and temperatures below -400°F with an ultra-low energy consumption twin-expander refrigeration process that simplifies and streamlines operation and maintenance. The delivery of hydrogen at extremely low temperatures results in changes to logistics and operations.  The result is cost savings for our customers. 
Store & Handle Hydrogen
Plug offers fully integrated turnkey handling systems with capacities ranging from 60 kg to 8,000 kg per day as liquid or gas. 
Plug storage and handling solutions include the design, procurement, commissioning and maintenance of hydrogen storage, compression and flow systems. The full portfolio of services means Plug's storage and handling options can cater to a variety of customer needs, including those who need liquid and gaseous storage.  
Dispense Hydrogen
With its proprietary hydrogen dispensers, Plug ensures a perfect integration of the fueling system with its fuel cell products, including fast-fill and industrial IoT reporting to help users keep track of their latest performance.  
With more than 165 Plug refueling stations in the U.S., customers will never have to worry about running out of green hydrogen.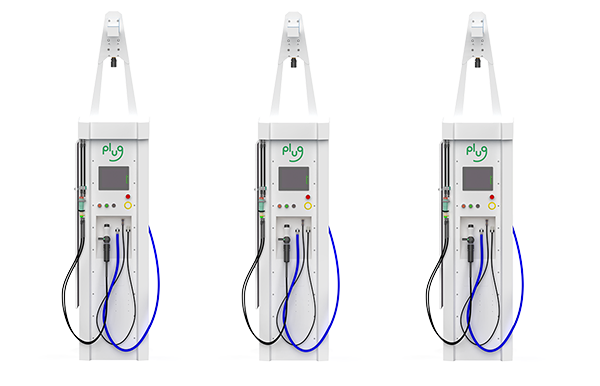 Use Hydrogen
By combining hydrogen with Plug fuel cells, we can power a spectrum of applications from material handling to Class 6 and Class 8 trucks to EV charging to aerospace to back-up power for critical infrastructure.  
Plug's proven, flexible and durable power-generating fuel cell technology allows users across the application spectrum to unlock the inherent benefits of hydrogen.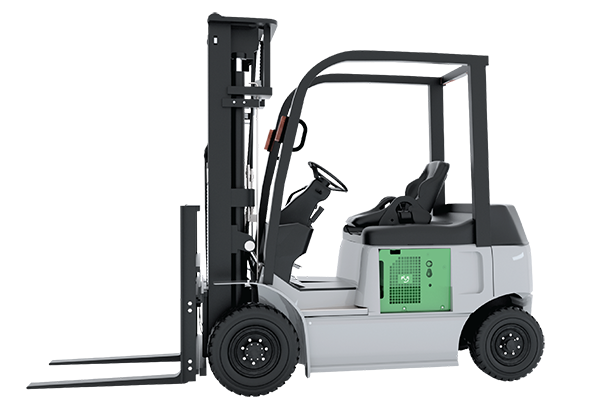 Literature & Resources
Learn more about our fuel cell products. Browse our literature and resources.
Learn More